Getyourmoney.tips
As organizations prepare for the new European Union (EU) General Data Protection Regulation (GDPR), I am challenged with implementing changes in the way I manage processes, people, and technical controls in order to comply with the new legislation, getyourmoney.tips welcome the positive changes the GDPR is expected to bring to my services by means of transparency.
One of the things of interest for you is how to opt-out for several services including mine.
Opting out from my email services is very simple. First of all to opt-out you have to receive emails from me first. For receiving emails you will have to be subscribed first. So If you get emails … You opted-in at some point.
Having said this, in every mail you get from me an opt-out possibility is given in every email. So just head to your email box, find any email from me and click the unsubscribe button. It is that simple.
Notice this concerning cookies: Cookies are placed on your system if you allow them. If you want to get rid of any cookies you have to go to the settings in your browser and delete them. If you have no idea how to do this go to Google and type in "delete cookies safari" or "delete cookies chrome" and do that for any browser you specifically use.
There are too many browsers, Mac-, Microsoft-, Linux- and so on versions and operating systems -and all are different- to go into how to do this for me.
But know that deleting cookies is something you have to do in your own system if you have allowed them.
Cookies remember you preferences among others, what you have been reading and what not and all kinds of handy stuff, so if you delete them you have to repeat the setting again when you visit the next time.
How to remove your data from or stop tracking by bigger parties mentioned below
In your quest to wrench your data from the grips of these data brokers, you have to know where to turn. You'll need to specify exactly what you want to be left out of any data collection, including your name, phone number, and any email addresses.
For getyourmoney.tips this is easy because I only have your first name and email and you can remove yourself from my list any time as stated above.
Facebook data providers
Here's how to suppress your data or prevent tracking at the Facebook data partners that provide such tools.
        Acxiom
In addition to options for opting out of data collection by phone or mail, Acxiom provides an online form that you can fill out in order to prevent your data from being collected. Note that this opt-out form covers only one identity at a time.
Head to https://isapps.acxiom.com/optout/optout.aspx in your browser or choice.
Click the checkboxes under the type of information that you want to remove (mailing addresses, phone numbers, and email addresses) from Acxiom's data tracking under Acxiom Corporations's Online Opt-Out.
Choose who is the subject of this data removal: yourself, someone over whom you have guardianship, or a deceased family member.
Click the green + sign on the box that says Full Names.
Add your name to the fields presented to you that you want to be removed from Acxiom's data tracking.
Click Add to complete adding the name to the opt-out list.
Repeat steps 4-6 to add more names to the list, including nicknames, former names, and married names. This list, like the other three, accepts up to 10 entries.
Click the green + sign on the box that says Phone numbers.
Add a phone number that you want to be removed from tracking.
Click Add to add the phone number to your opt-out list.
Repeat steps 8-10 to add more numbers to your list.
Click the green + sign on the box that says Email Addresses.
Add an email address that you want to be removed from tracking.
Click Add to add the email address to your opt-out list.
Repeat steps 12-14 to add more email addresses to your list
Click the green + sign on the box that says Mailing Addresses.
Add a mailing address that you want to be removed from tracking.
Click Add to add the mailing address to your opt-out list.
Repeat steps 15-17 to add more mailing addresses to your list.
Click Submit.
Enter the email address to which you'd like Acxiom to send your opt-out confirmation.
Click Submit. Acxiom will send you an email with a link you need to complete your opt-out request.
Click the link in the email from Acxiom.
Click Submit on the confirmation page.
The data you submitted on Axiom's forms should now be removed from Acxiom's marketing packages.
        Epsilon
Contacting Epsilon to opt-out of its databases is all about direct mail. Epsilon doesn't actually own anything like email data, so all it can do is stop providing your name and mailing address to clients. In order to opt-out of mail from Epsilon clients, you'll need to send an opt-out request to optout@epsilon.com and provide your full name and address for the opt-out procedure.
        Experian
You can opt out of Experian's databases via link for the following services:
On each of these pages, there will be a link labeled "Click here" that you can click to opt-out of the tracking performed for these services. Unfortunately, all this opt-out process does is embed a cookie in your browser so that Experian's trackers around the web knows not to track you. This means that the opt-out is only for activity performed in your current browser on your current computer.
If you want Experian to suppress the information that it has collected on you and continues to collect across its direct mail, telemarketing, and online targeted advertising services, you'll need to send an email containing all of the relevant information that you want suppressed to optout@experian.com. If you're looking to opt out of Experian's email marketing databases, you'll need to send an email from the address you want to opt out to unsubscribeall@experian.com, which will remove you from the company's permission-based email database used by Experian and its partners.
Finally, opt out of pre-approved offers like credit cards and insurance mailing lists by calling 1-888-567-8688.
        Oracle Data Cloud
Like Experian, Oracle offers an opt-out cookie for its Internet Based Advertising product. This will prevent Oracle tools from tracking your activity in your current browser on your current machine. Here's how to use it.
Head to Oracle's Opt-Out Tool website.
Click the big, orange Opt-Out button.
You can also opt-out of Oracle's offline marketing information collection. Follow these steps:
Head to Oracle's offline opt-out website.
Fill out the available form with your name, address, and email address.
Click Submit.
        Quantium
Quantium, compared to the rest of these companies, makes it fairly easy to opt-out of having your information shared with the company's partners, including Facebook. It provides a number of links that let you opt-out of being targeted by a Quantium partner's advertisers using Quantium-provided data.
For instance, opt out of Facebook ad targeting with these steps:
Head to Quantium's Opt Out website
Click Confirm under Facebook Targeted Advertising.
Like other services, this opt-out only applies to your current browser and computer, so you'll need to opt out again if and when you get a new machine or start using a new browser.
You can also click on the following links and follow the quick instructions to limit tracking in your browser on Quantium's partner sites:
        KBM Group
Like some of the others, KBM offers a cookie-based opt-out solution for your current web browser. Follow these steps to activate it.
Head over to the KBM Group Interactive Opt-Out website.
Click the click here button on the line that begins. "To complete the opt-out process,".
If the opt-out it successful, you'll be taken to a screen that says so.
Google
Voice Features
How to delete it: If you've used any of Google's opt-in voice features for yourself, then head to Google's Voice & Audio Activity page to review your voice searches and listen back to them. Be warned, this could be interesting, funny or just plain cringe-worthy.
To delete this database of embarrassing searches select one or more of the recordings from the checkbox beside them and then click "delete" at the top of the screen.
Google location
Use Google's location services? Then your every move is being tracked and mapped
As well as recording your searches and your voice, Google has also been keeping tabs on your location.
Google's location history, or timeline page, serves up a Google Map and allows you to select specific dates and times and see where you were. Its accuracy depends on whether you were signed into your Google account and carrying a phone or tablet at the time.
How to delete it: When you visit the timeline page you can hit the settings cog in the bottom right-hand corner of the screen and select delete all from there.
There's also the option to pause location history by hitting the big button in the bottom left-hand corner of the screen.
But this one is a little trickier to completely get rid of, because to stop it happening in future you'll need to opt out of both location tracking and location reporting with your device — whether you're running Android or iOS.
Control advertising data
One of the more interesting places to check out what Google really knows about you is to head over to its ad settings page where (if you're signed into your Google account) you'll see a profile Google has built for you based on your search history, YouTube history and interests. So, for example, it might know that you're female, aged 18-24 and interested in banking, consumer electronics, mobile phones, shooter games, rap and hip hop and toys.
From this page it's possible to turn ad personalization on (or off). If you opt out of personalization then the adverts that follow you around the web – trainers, when you searched for them once – will stop appearing. Google's ad network operates on more than two million websites around the world and limiting its knowledge about you will make everything seem that little less creepy.
Delete all your online accounts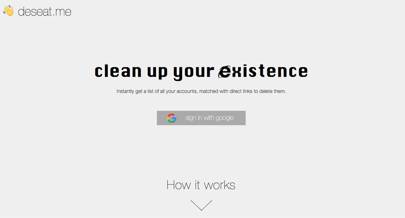 The website uses Google's OAuth protocol to delete your online presence
If you've ever wanted to remove yourself (almost) entirely from the internet, Swedish website Deseat.me uses your Google account to help.
Using Google's OAuth protocol, which allows third-party users to access your other accounts without finding out your password details, Deseat.me brings up all your online and social media accounts and allows you to delete yourself from them.
How to delete it: Visit Deseat.me and input your Gmail address. It will bring up all the online accounts linked to that email address and allow you to get rid of them.